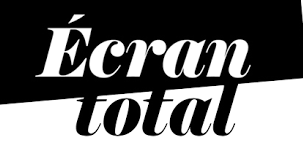 N.1354 8-14 December 2021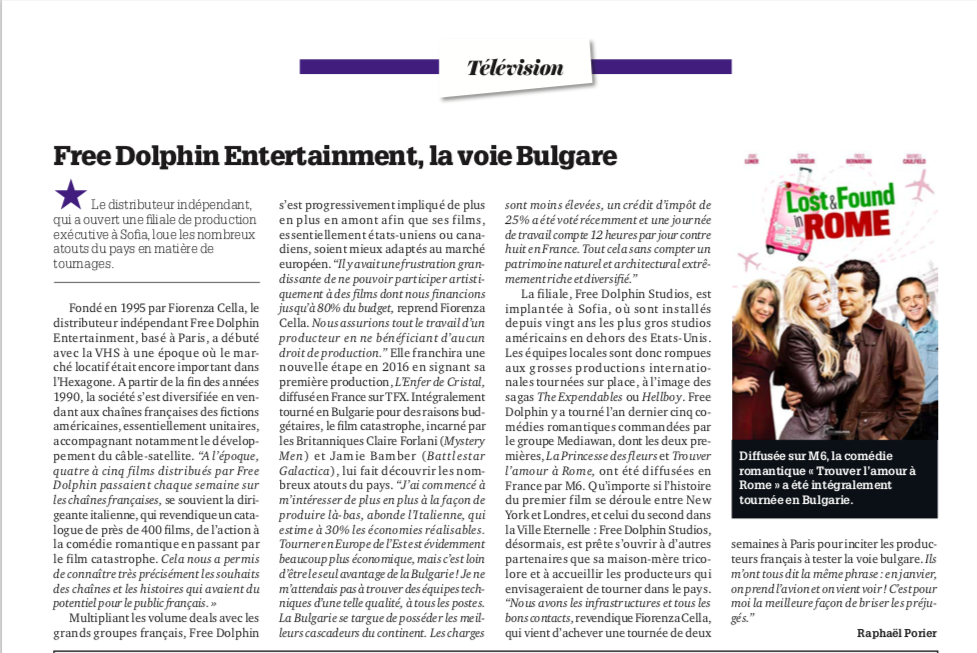 Published on Ecran Total N° 1354, December 8, 2021; originally in French by Raphaël Porier.
FREE DOLPHIN ENTERTAINMENT*: The Bulgarian Way
* The independent distributor has launched an Executive Production subsidiary in Sofia and explains the advantages of shooting films in Bulgaria.
The Paris based independent distributor Free Dolphin Entertainment, created in 1995 by Fiorenza Cella, started in the television industry distributing VHS tapes in the days when VHS renting was booming in France. By the end of the 90s the company had begun selling scripted content to French Broadcasters, mainly American TV fiction films taking advantage of and assisting the expansion of cable-satellite TV. "In that period four or five films distributed by Free Dolphin aired on French TV channels every week," recalls Fiorenza, the Italian born CEO. The catalogue was generous: there were almost 400 titles involving various genres, everything from action to romance to disaster films. "Thus we were able to determine what the channels wanted and the kinds of stories that were best suited for French audiences."
As their many arrangements with the big French companies multiplied, Free Dolphin became progressively more and more involved in adapting the films they distributed, mostly American and Canadian productions, to the tastes of the European market. Fiorenza recollects "the growing frustration of not being artistically involved in the production of films for which we covered even up to 80% of the budget. We guaranteed all the production needs but without any benefits regarding the rights."
She made a major move forward in 2016 with her first production, Crystal Inferno, that aired in France on TFX. Shot entirely in Bulgaria due to budget constraints, this disaster movie, starring British actors Claire Forlani (Mystery Men) and Jamie Bamber (Battlestar Galactica), was her introduction to the numerous beauties of the country. "I obtained more and more information about how to produce there," said Fiorenza, estimating savings of up to 30% of the budget. "Shooting in Eastern Europe is certainly far more economical, but that is only one of the many perks of Bulgaria! I didn't expect to find such qualified technical teams in all fields.
Bulgaria boasts having the best stuntmen on the continent. Costs are lower, a 25% tax rebate has recently been voted, and the work day is 12 hours compared to 8 in France. Not to mention the extremely rich and diverse natural and architectural heritage of the country."
Free Dolphin Studios, the subsidiary company, is based in Sofia, Bulgaria. The big US studios have been working there for about 20 years. Thus, the local teams are used to working on big international productions, such as The Expendables and Hellboy. Last year Free Dolphin Studios shot five romantic comedies commissioned by Mediawan, including Royal Blossom and Lost and Found in Rome which aired in France on M6. It doesn't matter that the story of the former takes place in New York and London, and the latter in the Eternal City. Free Dolphin Studios is now ready to work in partnership with others who would like to shoot their productions in Bulgaria. "We have the infrastructure and all the right contacts," claims Fiorenze Cella, who has just finished a two week tour in Paris encouraging French producers to test the Bulgarian way. "They all said the same thing – in January, we'll fly there to take a look! – That's the best way to overcome the prejudices."
Raphaël Porier